by Miss Sinister on Aug.24, 2011, under Current
Puff, puff…..Kiss my ASS, MI GOP.
We have a Serious Problem…..We have an extreme political party gaining FAR too much power. The Far Right/Tea Party.
In 2008, we in Michigan voted to partially legalize marijuana. Signatures were collected, it was put on the ballot, and the law passed-63% approved. That is over 2/3 of the folks who voted.
I want to state that I think making it a medical issue was, and IS ridiculous. But it was passed that way, because the state had to have their TOLL. And the government had to be able to intrude even further into our lives. It had MASSIVE restrictions. But it was a baby step. They granted SOME of us (people with sickness and pain) the privilege of smoking a joint in our kitchens, without the fear that the door would be kicked in and our lives and livelihoods, our families and possessions would be taken by the state.
It was a small victory…..Because folks were getting in trouble for possession even if they were registered. Dispensaries were raided, illegally in some cases. We still had scant protection.
Now, these New Party politicians in MI have been "reviewing" marijuana law. And they've decided to close dispensaries. So they bought their judges, and did just did it.
In 2010, the Tea Party GOP won a majority across the board in our state. They immediately began to change the laws drastically. They paid off their corporate donors first, through billions in tax breaks. Then these GOPsters (rich politicians/former CEOs/or bought) said "We're Broke, but YOU get sacrificed", and they start taxing old folks (poor old folks) and cutting education (which they can afford), cutting public services (which they don't need). Undermining our our very democracy with corporate-written legislation like the Emergency Manager Law (which they intend to Profit from).
That's not the worst aspect. Now that they've paid their donors back, stolen even more of our wealth, and have reduced our right to stop them (EM Law), these Bastards are now getting into their Social Agenda.
These RW Fascists (look it up, it fits) want to make anything they don't like into criminal activity. Whether it's abortion, gay marriage, smoking a joint, or NPR. The problem is, they will always find new things to hate, and it will never stop.
Every time this New Party takes anything away, they've already planned ahead for the next thing they are going to take. The 'thing' they take is something you may not like. So be it, but think about this–the next 'thing' might be something you DO like.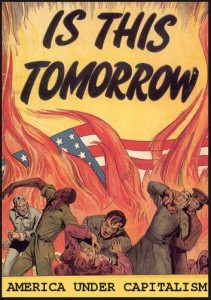 These Lunatics, across the country, have shown us WHO they don't like, through the legislation they are shoving down our throats.
They do not like women, workers, the poor, the elderly, students, teachers, the disabled, gays, 911 workers, pot smokers, homeowners, immigrants, public employees, activists of any sort, Muslims, anyone who works at WalMart and McDonalds, and anyone who isn't a God-fearing Bible-thumping Christian.
EVEN THE VERY SOLDIERS they send to War from behind their Mahogany desks, in the name of Profit and Empire.
That's a pretty big majority of Americans, if you consider women alone.
The New Party is already working on the wall between Church and State, with their moral legislation. (This is the Scary Bit)
A Few Examples:
Today they ban abortion, tomorrow they ban contraceptives. Then they ban homosexuality and sex outside of marriage, and begin the Burning Times again.
Today they allow group prayer in schools, tomorrow teaching Creationism in school, then suddenly church attendance is mandatory. Burn the Heritics.
Today, they are 'defending' America from terrorists. Tomorrow they ban protests and privacy. Next week they declare martial law. Next month, they start the Crusades back up. Burn, Baby, Burn.
Extreme? If you think so, you need to wake up and take a look around. And read a little HISTORY, because this Crazy Shit has happened a few times before.
The point is, YOU may not smoke pot. You may not like it. You may not believe in abortion, that's your Right. So these policies may not be affecting you. You may not be gay, so who cares, right?
You may be a Christian, if so, fine with me. You may never try to push your religion on others, even better with me.
But when politics and religion mix, it gets Ugly. And THAT is what is happening in America. What kind of separation of state is there, when major politicians are serving thier corporate masters, legislating morality, and, literally, praying for rain?
The problem is, EVERYBODY does something that someone else doesn't like.
Today pot, tomorrow liquor…….next month, mandatory pharmaceuticals. The Lord knows all those people in pain need their Vicodin and Zoloft. For a hefty Profit, of course. Thank you Brother Pharma!
The New Party will get around to 'not liking' Everybody, eventually.
Even You
257 comments for this entry: